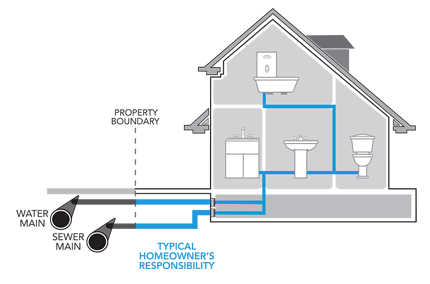 Homeowner Exterior Lines Responsibility

As a homeowner, you know that repairs to plumbing lines inside your home is your responsibility. However, like many homeowners, you may NOT be aware that you are also responsible for repairs to Water service and Sewer/Septic lines on your property boundary buried outside your home. These exterior lines buried underground are subject to freezing, tree roots, corrosion, changing soil conditions, and ground shifting, causing a sudden breakdown.

Repair or replacement, due to damages caused by normal wear and tear, to these exterior lines can be costly and are not typically covered by basic homeowners' insurance.
Service Line Warranties of Canada Repair Plans
Service Line Warranties of Canada ("SLWC") in partnership with your local city/town/ municipality, offers eligible homeowners optional repair plans to help protect you against potentially expensive repairs to water service line, sewer/septic lines and interior plumbing and drainage lines on your property.
Starting as low as $5.00+HST per month, SLWC's plans protect you from unforeseen high out-of-pocket expenses and the hassle of finding the right plumber for your repair job, with just one call.
Benefits of SLWC repair plans

You pay $0 for covered repairs up to benefit amount

24/7, 365 days hotline available to schedule repairs

Repairs performed by insured, licensed and local plumber

One-Year guarantee on covered repairs
Did you know?
About 1 in 3 homeowners has less than $500 set aside for emergency home repairs*
1/3 of homeowners have trouble finding the right contractor for home repairs, and when they do, 50% report problems with the contractor*


*2021 State of Canadian Home Survey conducted by Leger Opinion
Featuring some of our best customer reviews
Fast response by the call centre in lining up the contractor. They all kept me informed and were professional throughout. The contractor adhered to covid safety precautions and practices. The repair was done quickly and completely.
5 Star Rating
Nancy, , customer
Wonderful experience from my initial phone call through completion of the repair. Excellent customer service and prompt, courteous, professional workmanship
5 Star Rating
Catherine, , customer
Service line were quick to make necessary calls to an excellent contractor who solved the problem. I would and have recommended to friends the end result.
5 Star Rating
Neil, , customer
Fast efficient service. I could not believe how fast and easy the problem was solved, from the time of my phone call to the service being resolved. Thank you
5 Star Rating
Mike & Diane, , customer
SLWC repair program is simple and has helped Ontario Homeowners save millions of dollars in repair costs.
In the event of an unexpected broken or leaking line, one call to the 24/7 call center will dispatch a local, licensed, reputable plumber to your residence to repair or replace the line.
Watch the program video
Get An Instant Online Quote For Your Home